As a pioneer in the wedding industry, the Wild Basin Lodge offers these policies and practices that you won't find at other wedding venues:
An honesty in pricing model that rolls all fees and charges into one "per person" cost. The entire award-winning Wild Basin Wedding™ is one simple number. Customization options also get priced in the same manner.
Full time Wedding Planner and a Day-of Coordinator that offer personal service throughout the life cycle of the event.
A small, family-run business that makes personalized service one of the highest priorities.
A proprietary planning system developed over thousands of events that carefully tracks all aspects of each wedding. This engineering-caliber system alleviates stress, and allows couples to place their focus on where it should be — each other.
Our very own award-winning chef that is an expert in serving food precisely when requested, yet is able to make last minute adjustments that no planning can forecast.
The privacy and focus each event deserves. Wild Basin Lodge hosts only one wedding a day, and is dedicated solely to weddings.
A commitment to sustainability that promotes stewardship of the environment and drives consumer costs down
Take A Walk Through Your Wedding Day..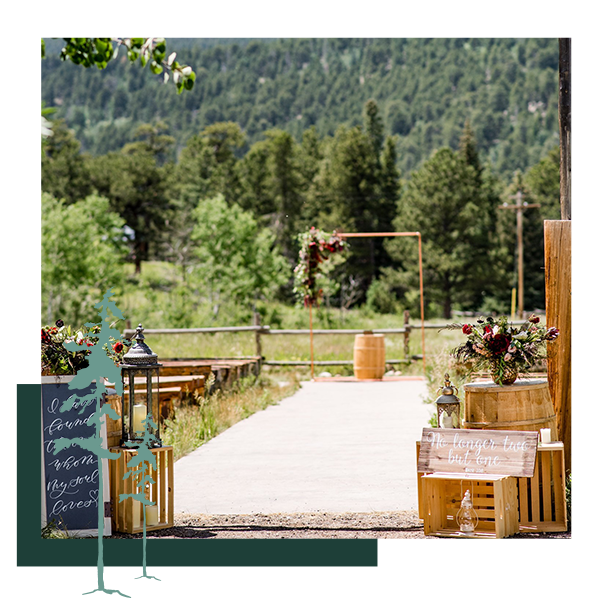 Impeccable Service In the Most Serene Setting
Unspoiled natural beauty meets a one-of-a-kind, carefully orchestrated wedding planning process at Wild Basin Lodge. Nationally recognized as one of the premier wedding venues in the region, Wild Basin Lodge specializes in the highest level of Colorado cuisine and exceptional, personalized, in-house service. The stunning Rocky Mountains are the backdrop for your dream wedding, while behind the scenes, every detail is meticulously tracked and managed by the Lodge's on-site team. With only one wedding a day, the lodge provides complete privacy and 13 acres to explore with your new spouse and photographer, capturing your love with the most incredible surroundings.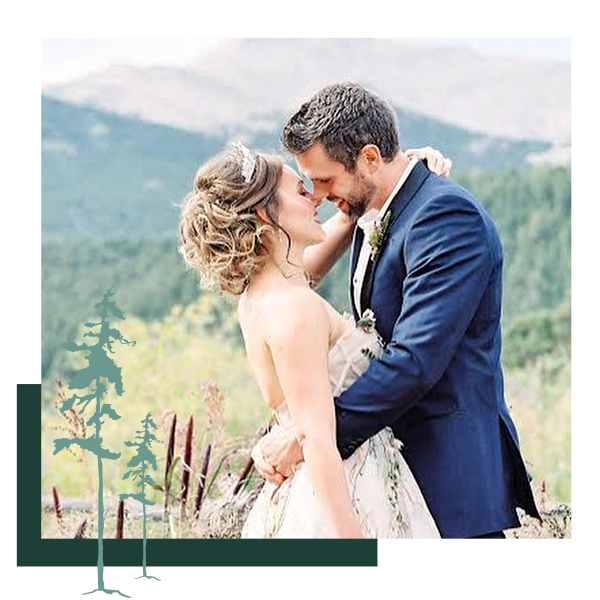 A Tailored Experience With a Simple Approach
Refined by almost 20 years of hosting celebrations, your wedding at Wild Basin Lodge will be a customized experience crafted to provide unparalleled service and reduce the stress of planning your dream day. Our packages already include items
and services common to most weddings, paired with an uncomplicated pricing structure. Wild Basin Lodge retains a full staff that is dedicated to offering personal service to each couple throughout the entirety of their event. More than just a
standard wedding venue, Wild Basin Lodge is at the heart of your wedding day and we're dedicated to creating the celebration that you're longing for.
One complete price, including service charge and, encompasses all of the following:
THE FULL EXPERIENCE
Planning meetings for your wedding
Exclusive use of Wild Basin Lodge on your big day
Two ceremony sites to choose from - Meadow Peak or River Run
Five hour reception (Copeland or St. Vrain Room)
St Vrain dining room included at no charge for events over 80 guests
Dance floor
Chairs, tables, and linens (additional tables as needed for DJ, cake, gifts, etc.)
All place settings
Rehearsal coordination and walk through
Ability to decorate starting at 10 AM
Dressing rooms for the day of your wedding
1 hour after reception to clean up personal items and decorations
Cake and/or flower storage
Lodge-owned decorations available for use (inquire for availability)
No mandatory lodging requirement
AWARD-WINNING SERVICE & CUISINE
All of the needed staff:
Venue Coordinator, Office and Marketing Team, Bar Manager and Event Staff
Award-winner culinary chef and kitchen team
Wild Basin Lodge's incredible cuisine:
Two appetizers
Salad or soup
Two entrées
Two starches
Rolls and butter
Two vegetables
Meals are typically served family style
(Larges dishes of our delicious menu items passed around the table to your guests)
Complimentary non-alcoholic beverages
Water stations for you and your guests
Complimentary cake cutting service
DOWNLOAD OUR 2023-2024 PRICING GUIDE