When you look back on the most significant and special days in your life, your wedding day will likely be one of the first days to come to mind. Surrounded by friends and family, saying your vows to your special someone, and celebrating the night away is something that many people envision in their minds when they think of their wedding.
At Wild Basin Lodge, we are dedicated to helping create the most perfect wedding day for you, your spouse, and all of your guests. Located in Allenspark, Colorado, we have a beautiful property nested in the majestic Rocky Mountains, with outdoor wedding venues that will take your breath away, one of which being our River Run venue.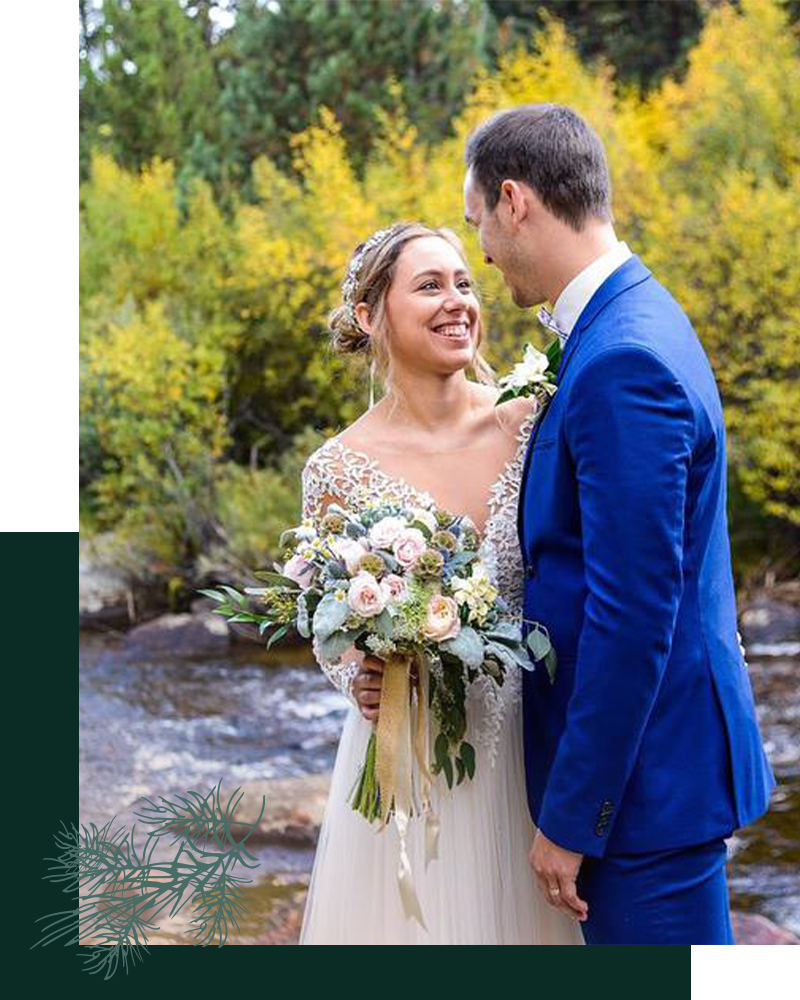 River Run - Our Unique Wedding Venue at Wild Basin Lodge
If you're looking at places to get married in Colorado that have a river view wedding venue, the River Run is what you've been searching for. This outdoor wedding venue is located alongside the St. Vrain River, providing a calming and serene environment for you and all of your guests to enjoy on your special day.
As you walk towards the altar, you will hear the calm currents of the river flowing while you are surrounded by beautiful trees all around you. Our stadium-style seating arrangements allow all guests to enjoy an unobstructed view of your ceremony. For guests that are unable to use stairs, we have stair-free access to accommodate.
This intimate, private river view wedding venue is available for dates in both the summer and fall and makes a great backdrop for the rustic wedding you have always dreamed of. For information about available dates, pricing, or additional questions you may have, please get in touch with our staff today.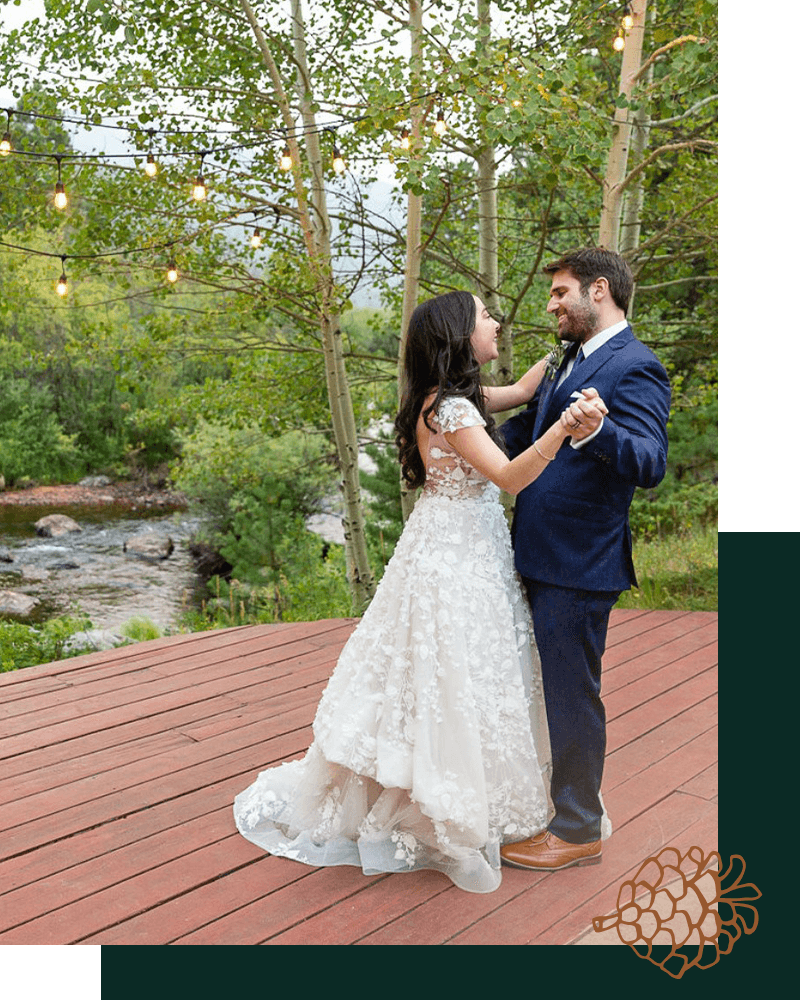 Wild Basin Way - All In One Offerings For Your Special Day
We have been in the wedding industry for many years. With that being said, we know how to help you plan your day so that you can be worry-free and enjoy every moment of your special day. In addition to our River Run wedding venue, we also have a mountain view wedding venue, as well as a wedding reception area and lodging.
Instead of shuttling you, your wedding party, and all of your guests to a different location for the reception, you have the ability to book your reception on our property. In doing so, all of your guests can easily make their way to the reception area following your ceremony, without worrying about driving to a different location. Furthermore, we have lodging options as well, so you and all of your guests can dance the night away without rushing home.
We also offer in-house chef services to cater your reception. The Wild Basin Lodge really is the perfect place to have your mountain wedding, seeing as it has gorgeous outdoor wedding venues to choose from, a spacious reception area, and lodging on-site for you and all of your guests. If you want the perfect mountain wedding that you have envisioned in your head, Wild Basin Lodge is the place for you.
Book Our River Run Wedding Venue Today
We know that planning a wedding can be an intimidating task. However, when you decide to book your wedding day at Wild Basin Lodge, your wedding venue, reception area, catering, and lodging can all be taken care of with ease! Get in touch with our friendly staff today to learn more about all that we offer here at Wild Basin Lodge, as well as pricing and date availability. Fall in love with The Wild Basin Way today. We look forward to hearing from you!