Winter Wonderland
Bring Your Winter Wonderland Wedding Dreams to Life
Wild Basin Lodge is the perfect Colorado wedding venue to bring your winter wonderland wedding dreams to life. Imagine exchanging your vows surrounded by breathtaking mountain views, crisp winter air, and a dusting of magical snowfall. With our stunning location and unrivaled services and wedding packages, your Colorado winter wedding at Wild Basin Lodge will be an unforgettable celebration.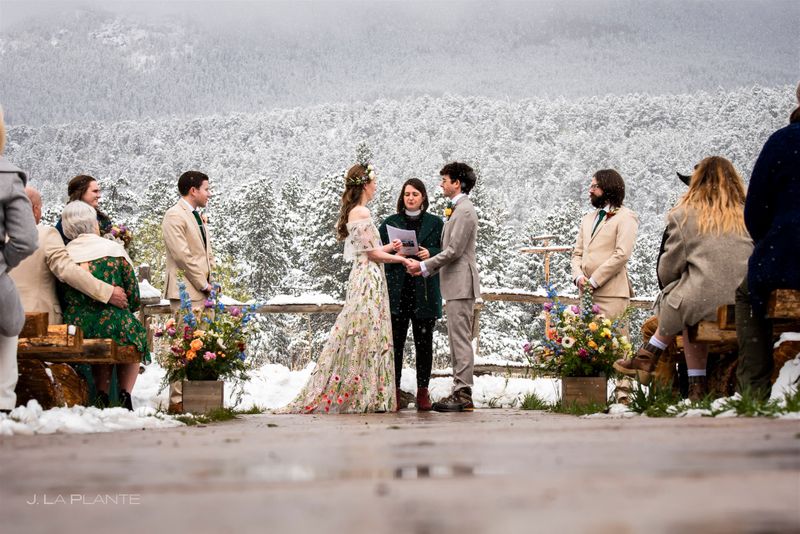 Host Your Wedding in a Winter Wonderland
Escape the ordinary and embrace the extraordinary by hosting your winter wedding at Wild Basin Lodge. Nestled just outside of Rocky Mountain National Park, our lodge offers a picturesque setting that perfectly complements the magic of the winter season. Say "I do" against the backdrop of snow-capped peaks and create a truly captivating and romantic ambiance. Choose to host your ceremony by a rushing river or in a quiet and serene meadow.

In addition to our ceremony locations, all packages include access to our on-site reception area and bar, where you'll be able to dance the night away and celebrate your winter wedding.
Why Choose Winter for Your Wedding
Winter weddings have a unique charm that adds an element of wonder and elegance to your special day. Embrace the enchantment of the season as you exchange vows with your beloved. Winter weddings offer various benefits including:

Availability & Affordability
Winter is considered the off-peak season for weddings, making it easier to secure your preferred dates at Wild Basin Lodge. Additionally, many of our vendors offer special discounts during this time, helping you save on your wedding expenses.

Natural Beauty
Colorado's winter landscape transforms into a breathtaking wonderland, with snow-dusted mountains, frosted trees, and glistening icicles — not to mention all the striking winter birds that call Colorado home during the winter. The stunning views provided by our Colorado mountain wedding venue are a sight to behold, creating a captivating backdrop for your wedding photos.

Intimate Atmosphere
Winter weddings tend to be more intimate, allowing you to spend quality time with your loved ones. The cozy ambiance, crackling fireplaces, and warm candlelight create an atmosphere of warmth and togetherness during every winter wedding reception.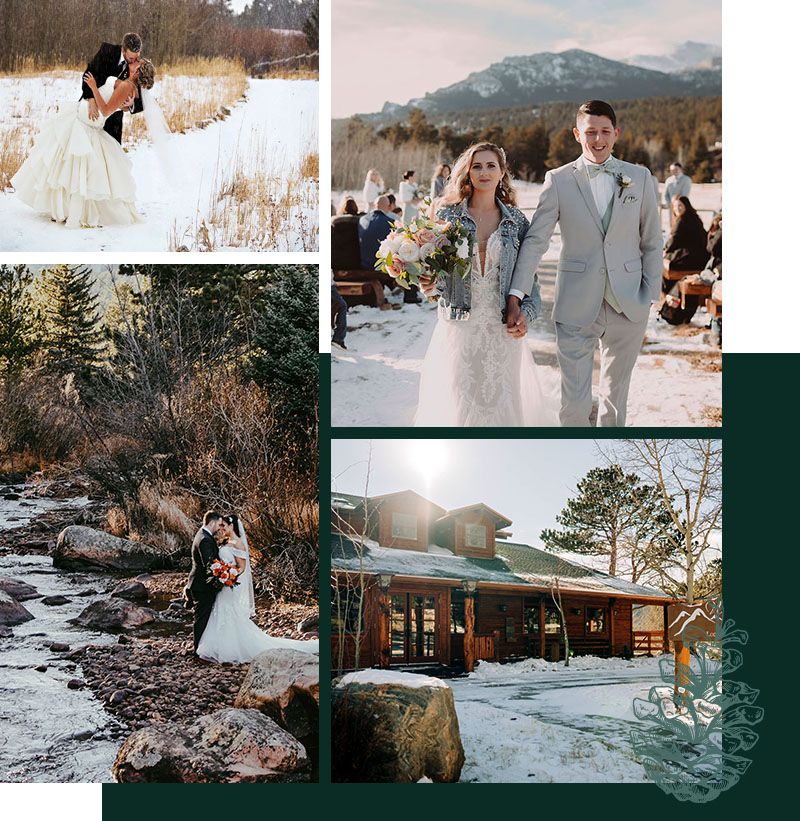 Special Winter Wedding Activities
Colorado's winter season offers a plethora of activities for you and your guests to enjoy during your wedding weekend. Make your celebration even more memorable by indulging in:
Skiing and Snowboarding - Take advantage of the nearby world-class ski resorts like Eldora (less than an hour away) and enjoy thrilling adventures on the slopes.

Your guests can partake in winter sports like ice skating, ice fishing, and sledding in the Estes Park area creating unforgettable memories.

Winter Hiking - Strap on your snowshoes and experience all the serene and natural beauty of the Rocky Mountains in Winter. Just a stone's throw from Wild Basin Lodge is the Sandbeach Lake Trailhead and the Wild Basin Entrance to Rocky Mountain National Park!

Need some more reasons? Check out Visit Estes Park's recommendations: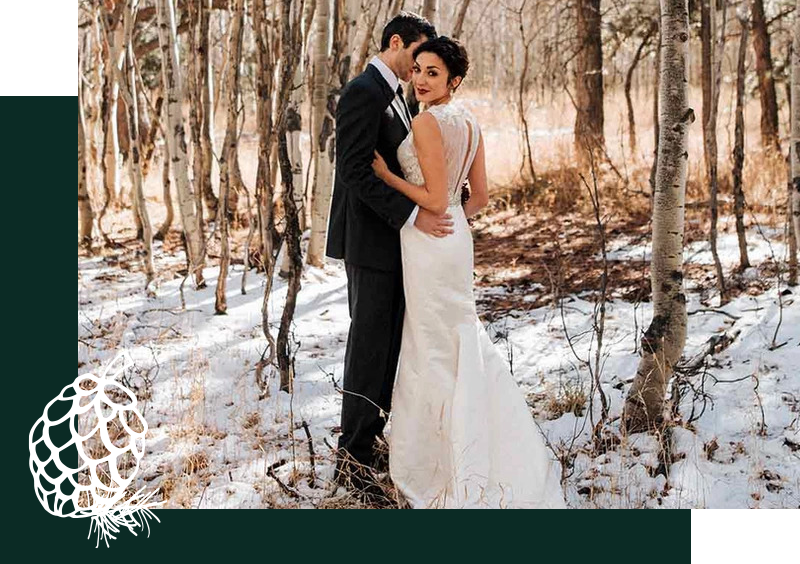 Work With Our Planning Team Every Step Of The Way
At Wild Basin Lodge, we take pride in our exceptional ability to plan weddings with remarkable speed and efficiency. As a dedicated team of wedding planners, we possess a unique talent for turning dreams into reality in just a matter of weeks. Whether you have a short timeframe or simply desire a swift planning process, we are up to the task and can deliver an unforgettable wedding experience without compromise. From the moment you step into our venue, we will work tirelessly to guide you through every step of the planning process, ensuring a seamless and stress-free experience. With our extensive network of trusted vendors and our meticulous attention to detail, we can swiftly curate personalized themes, and design the perfect menu that captures the essence of your love story. At Wild Basin Lodge, we thrive on the challenge of creating extraordinary weddings within tight timelines, making your dream wedding a reality in no time at all.
Colorado Winter Wedding Venue Extraordinaire
Wild Basin Lodge stands as one of the premier outdoor wedding venues in Colorado. Our dedication to exceptional service, stunning mountain views, and a perfect winter setting makes us the ideal choice for couples seeking a winter wedding with a view. Our experienced team will work closely with you to bring your vision to life, ensuring that every detail is flawlessly executed.
Celebrate your love amidst the enchanting beauty of Colorado's winter wonderland at Wild Basin Lodge. Our Colorado wedding venue offers the perfect backdrop for your magical mountain wedding. With breathtaking views, a serene ambiance, and a wide array of winter activities, your Colorado winter wedding at Wild Basin Lodge will be an unforgettable experience filled with warmth, love, and the beauty of nature. Contact us today to start planning your dream winter wedding in the heart of the Rockies.